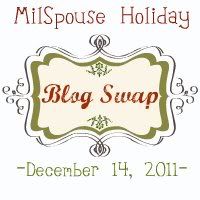 If you havent heard, Wife on the Roller Coaster from Riding the Roller Coaster is hosting a MilSpouse Holiday Blog Swap. This is my very first blog swap and Im really excited about it. There are some great bloggers participating, so be sure to check them all out. Just stop by the Wife's blog to see them all. I cant wait to read everyone's posts, which are all about Christmas.
You can find my post on how the military has affected our holiday seasons over the years on Nicole's blog at
Flip Flops and Combat Boots.
Im hosting Katie F. from
The Life of an Army Wife.
Katie is an Army wife from Wisconsin and new momma to a beautiful little five month old girl. Stop by her blog to find out more and to see some photos of her little cutie!
Here's her post:
Hello. My name is Katie F and I write over at T
he Life of an Army Wife. I love the holiday season. Christmas is my absolute favorite time of year. I love listening to Christmas music, driving around looking at decorations and the warm fuzzy feeling you get curled up in your living room with the ones you love enjoying the lights of your Christmas tree
My family is big on traditions. My parent's made Christmas so special and I knew that I wanted to do the same for my kids. Now that our daughter is here we went all out for Christmas this year. The last few years we have gone home to WI to be with our families for the holiday's. This year a 17 hour drive with a 5 month old was out of the question so it will be our first Christmas just the three of us. While it's sad knowing we won't be going home for Christmas I am excited to start our own family traditions along with incorporating some of our families traditions.
One major tradition my family did was giving us a new ornament each year. Every year in the beginning of December my parent's gave us a new ornament to put on the tree. They always had some sort of meaning or represented us in some way whether it be a ballerina ornament or a high heel, it was always special to see what my parents had picked for us. And now 27 years later I have 27 ornament's to hang on my own tree. The hubs and I decided to start this tradition with our daughter and a few weeks ago headed to Hallmark to pick out Baby's first Christmas ornament. It is hanging proudly on our tree and our family member's have even joined in our tradition and purchased some ornament's for her
Other traditions include going to church on Christmas Eve, cooking a big meal for us to enjoy. A traditional turkey with all the trimmings on Christmas eve and a traditional italian dinner on Christmas day.
Traditions are meant to be passed down and shared with one another. That is what makes Christmas so special for us. Sharing them with our daughter along with starting our own new traditions. Traditions that will last a life time and that will hopefully be passed along to our grandchildren. So even though we will be far away from our families this year they will be close by in spirit. What sort of traditions do you all enjoy during the holiday's?
I know one tradition I plan on starting is The Elf on a shelf. When Gianna gets a little older I think it will be such a cute experience for her. I see so many people blogging about it that I can't wait to start it.
The most important thing of all however is that we will be together this Christmas. Celebrating the holiday's when your loved one is deployed is always hard and it has taught me to never take time together for granted.
Thank you for your great post Katie!
What are some of your Christmas traditions?